Know the Reason Why Decorative Cakes are Trending in 2022 – From The Best Bakery Shop in Varanasi.
The cake is such a love! It is a special and delicious part of every party. If you want to give a significant surprise to your loved ones, then you are at the right place. Celebrate your birthday, anniversary, Bachelorette party, Farewell, Fresher's party and other occasions by bringing the sweetest dish in amazing flavors. If you are willing to celebrate your opening ceremony and other parties at your best side, then we are hereby presenting the best ideas to contribute a little effort to your special day. We have a bunch of delicious flavors of baked cake, pastries, desserts and sweet items. Get your favorite baked cake from The Best Bakery shop in Varanasi. 
We know that apart from baking the favorite cake with your delicious flavor, people are expecting to decorate such cakes in the newly trended designs which are going trending and viral for the year 2022. Now, the internet has flawlessly become the viral sensation for everything, same that there are many celebrities, occasions and even the normal birthday cakes are gone in trend. So, why should we stand at the back? Now, we are going to bake some amazing cakes of different styles, the design having the trending cake decoration approach and many more things that you will find only in The best Bakery shop in Varanasi.
Are you ready to read some prestigious trending cake decorating trends for 2022? Watch below.  
Chocolate Flavored Trending Cake Designs 
Do you know one of the most demanded, tasty, and favorite flavors of all occasions and for all ages? Yes, Chocolate flavor cake. It is the most common day in dreams and symbolizes an upcoming hedonism and pleasure. This pleasure can be related to love or food and also with drinks. Chocolate is a symbol of love and happiness and the Chocolate flavor cake represents the celebration of love, happiness, joy, and remembering good times. Order now and make your loved ones feel special.
It is the most special and demanded cake which can be cut on any occasion. Children's most demanded and the favorite flavor is now within our Bakery Parlor. Syrups and Choco chips add the taste to the cake. We have the glory in Chocolate Cakes that are trending in the global world. Give a perfect treat to your loved ones for every occasion. It gives more pleasure in a crowdy area where everyone seems to be a huge chocolate lover.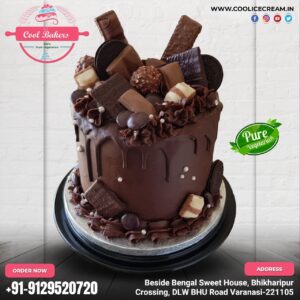 Know our strength in chocolate cakes:
I. Chocolate Truffle Cake: This cake is fully covered with ganache of chocolate, soft and spongy in taste. Once you take a piece of this delicious cake into your mouth, you will be mesmerized by its taste and sweetness. 
II. Sour Cream Chocolate Cake: It is purely decorated with sour chocolate cream and moist chocolate sponge. This is one of the most loving dessert items. Try his latest cake and you can also add Choco chips to every delicious layer. 
III. Chocolate Lava Cake: As its name already suggests, it brings Lava of chocolate into your mouth once get eaten. It is the sweetest and most delightful cake for all chocolate lovers. Order it according to your preference and give the best gift to the Chocolate lover on your contact list. 
Ferrero Rocher Chocolate Cake: Who can resist this viral trending cake? The best cake for Ferrero Rocher Chocolate lovers to try their amazing and delightful sweet in a new way with loads of chocolate base topped with Ferrero Rocher. 
Chocolate Fudge Cake: If you are a pure fudge fan, then you will not say "No" to this amazing flavored cake. This is an ideal choice to celebrate your special days and occasions. 
When you can enjoy the dense, chocolaty, and the incredible sweet chocolate cakes in amazing shapes, styles, designs and your willing decorative arrangement, then get ready to receive it just at your doorsteps now.
Arty Effects Trending Cake Designs
There are a lot of cake decorating and trending cake viral ideas which we have been practicing for a very long time. Now, from a single layer to multilayers cakes, we are all set up to give you the designing and multi-tier cakes. Are you ready to get the best designing and viral trending of the year 2022, if yes, then watch our best collection of the year? 
We use decorative items to garnish the cake which matches its delicious flavor.  
Textured Frosting Cake Decoration Ideas: It is the main decorative idea to embellish the cake with the frosting techniques and equipment. Textured Frosting Cake Decoration is the latest idea that can make any plain cake a special and beautiful one.
Arty Effect Cake Decoration: This is the revolutionary design for every surprising and trending cake. In this, the main focus is given on the arty designs which make the cakes look adorable and smooth. In this experiment, we try to make beautiful and artistic flower designs every time when we baked this cake.   
Sprinkles Cake Decoration: You can feel these tasty sprinkles in your mouth with every piece of cake. These are the most popular cakes for birthdays and anniversaries. This is one of the most popular ideas and an ongoing trend. 
Apart from this, Mini Cakes Cake Decoration, Treat Box Cake Ideas, Brightly Coloured Cakes, and many other designs that we used to bake by using these arty effects designs.
Buttercream Painting Trending Cake Designs
If you want to make you every special day occasion, then Buttercream painting is the best decoration idea ever. The evergreen flowering decoration technique is always an incredible idea to bake any cake with a style. It gives the sassy feature and vulnerable forgiving strategies to make your best for every event. There should be a perfect consistency between frosting the cakes and making beautiful designs with the painted flowers. These are delicious and sweet in taste. We use colorful buttercream to make the floral color and give the greenery around the cake. We use lighter creamy shades of a different colors to give the floral shape of the flowers and bring underneath naturally beautiful cake. 
Choose your favorite flavor and give us a chance to decorate and bake your cake with the latest Buttercream painting ideas. Choose your wonderful cake design and style and we will give you the best memorable cake. Get your dreamy heavenly cake only with Best Cake Shop in Varanasi. Reach us now.
Isomalt Trending Cake Designs 
Did you know what is Isomalt? It is the perfect edible medium that can be used to make beautiful and clear candy decorations for cakes, candies, pastries, and desserts. It is sweet in taste but different from sugar substance, as the sugar color changes in yellow when we heat, but Isomalt does not.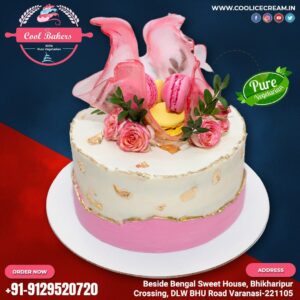 Let us tell you the modern and trending ways to enhance the decorations on the cake:
Clear Pulled Isomalt: It gives the best quality cake and allows the cake to take the organic form in a delicious manner. Using the flowing isomalt pieces gives an adorable touch to this cake design. 
Clear Isomalt Bowl Sails: This trend has come from the DTC Kitchen and is one of the most popular decorating cake designs. We decorate the cake by adding cascading orchids or by adding the edible gold leaves accent.
Colored Pulled Isomalt: When we want to make the cake looks like two different colors, then we chose the idea "Colored Pulled Isomalt". Get fun and funky color which we splashed to make the cake most interesting and add unlimited complementary colors. 
Are you ready to order this masterpiece? So, find the best Bakery shop in Varanasi to get the best Isomalt cakes.
Treat Boxes Trending Cake Designs 
Small Gifts have the largest capacity to give the most pleasurable feeling to anyone. The cake is essential for occasions, but did you know that apart from ordering the cake, what best you can gift to someone? Try the best cookies, desserts, mini cakes, cupcakes, and pastries for Treat boxes. You can order this stunning masterpiece only from the Best Cake Shop in Varanasi.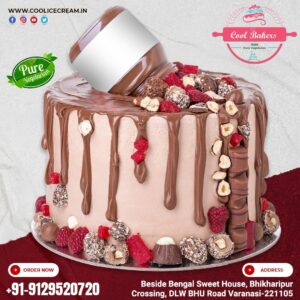 This year is full of trending cakes and masterpieces, try something new and more delicious. Either order corporate gifts or personal gifts, we make the perfect gift for every occasion. Find the Best Bakery Cake nearby you and contact us for more details.
Dried flowers Trending Cake Designs 
We are trying to give the icon of perfection in our every cake style. Dried flowers are one of the most trending cake designs for the year 2022. If you want your cake to look gorgeous, then be ready to try this viral trend on your special day. 
Some of the best tricks to give a gorgeous look to your cakes are:
PAMPAS GRASS: Gives you a 70s vibe with its delightful and decent plain color.
BUNNY TAIL GRASS: Also called laugurus ovatus in Latin, which adds perfection to the cakes.
DRIED FLOWERS: It is for fresh and safe food. By coating these flowers, we are all ready to give you the masterpiece of the year 2022.
Simple and elegant, tastier and delicious, styled and designed only by The Best Bakery Shop in Varanasi.
Colour Flavored Trending Cake Designs
Beautiful colors are the way to enjoy life. And, the colorful cakes are the nicest and most delicious ones. Can we call it a Rainbow cake? Yes, because of the bright and cheerful buttercream frosting on it. These layers are fully added with the colorful and delicious layers. Try this piece of harmony, hope and success. This cake is the perfect symbol of celebration and gives you surprising color and excitement with every bite of cake. When we have a wonderful collection, then why look for somewhere else? Place your order from The Best Bakery shop in Varanasi.
Contact us or just type "The Best Bakery Near Me" and get us with you instantly.
"Waiting for your order". The Best Cake Shop in Varanasi.
You can Order in different flavour now Anywhere in Varanasi call-9415228986
For More Visit us:-http://coolicecream.in/